Overview
Barksdale Resources (TSXV:BRO,OTCQX:BRKCF) is a Canadian exploration company focused on the acquisition and exploration of highly prospective mineral properties in Arizona and Mexico. The company's assets are centered in high-value mining districts where discovery and future consolidation potential is strong. Barksdale has spent years developing a loyal following, including key shareholders such as Teck Resources (TSX:TECK.A,NYSE:TECK) and Osisko Development Corp (TSX:ODV).
Barksdale's flagship asset is the Sunnyside project, within a portfolio of five projects located in the Patagonia mining district of southern Arizona, which has seen a significant mineral discovery as well as US$1.6 billion of M&A since 2018. Following years of consolidation, Barksdale is now the second largest mineral claim holder in the area behind South32 (ASX:S32), and controls five projects including Sunnyside, San Antonio, Four Metals, Goat Canyon and Canelo. Barksdale has received the exploration permit for San Antonio, and is actively advancing exploration drill permits so that it can fully explore its Sunnyside project, where the company hosts a large copper porphyry and the extension of South32's Taylor deposit.
Barksdale has completed its first drilling campaign at San Javier, an advanced copper-gold project in central Sonora, Mexico. The project is located within a kilometer of both the national highway and power grid and is less than a two-hour drive from the state capital of Hermosillo. With over $10 million of historical work including 30,000 meters of drilling conducted, Barksdale is now in the process of updating the resource estimate and a subsequent PEA to fast-track their San Javier project.
Copper is a key element in the manufacturing of many electrical products used across the world today. With increasing interest in renewable resources, which heavily depend on copper for the transmission of electricity, the demand for this resource only stands to increase. Barksdale's portfolio of assets deliver investors catalysts at every stage of the copper mining life cycle from discovery, exploration and near term production.
Company Highlights
Barksdale Resources CEO Rick Trotman has successfully acquired and integrated world-class properties; his integral experience and reputation has allowed him to recruit industry leaders and partners.
Barksdale currently operates five key projects: Sunnyside, San Antonio, Goat Canyon, Canelo and the Four Metals projects in the Patagonia district, Arizona, as well as the San Javier project in Sonora, Mexico.
Arizona is the heart of copper production in the US – 68 percent of all copper mined in America comes from Arizona. Most notable are the significant porphyry copper deposits found in Southern Arizona.
Barksdale is actively permitting the Sunnyside project for exploration. The plan is to drill Sunnyside and San Antonio in tandem in Q1 2023.
Teck Resources, US Global and Osisko Development Corp are key shareholders, with approximately 25 percent combined ownership
Barksdale is actively reviewing and qualifying other properties as an ongoing strategy to increase shareholder value.
Sunnyside Project
The Sunnyside project is located in the Patagonia district of southern Arizona and is adjacent to South32's development stage Hermosa project. The highly accessible project site covers approximately 21 square kilometers and hosts a large intrusive complex at its core. Historic drilling has indicated the presence of a large copper porphyry system at Sunnyside that also hosts associated skarn and manto mineralization that are rich in copper, lead, zinc and silver. Planned exploration of the project is expected to commence once exploration permits are obtained.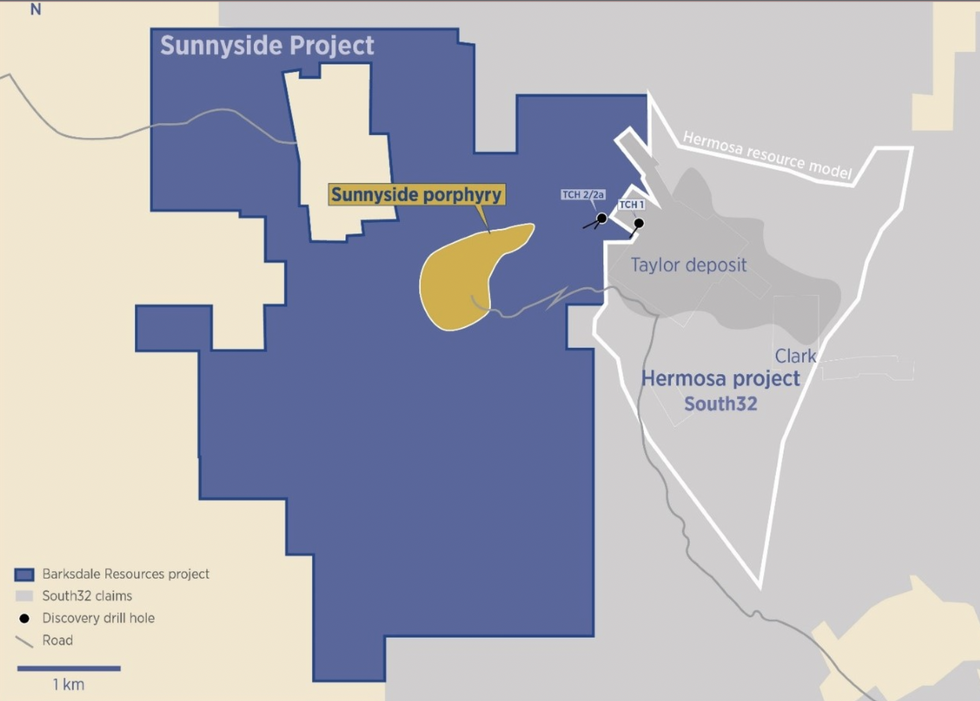 The Sunnyside project will likely prove to be one of the most exciting assets in Barksdale's portfolio. The Sunnyside Porphyry was discovered by ASARCO in the 1970s and while looking for the edge of the porphyry the high-grade skarn system was discovered. Before Arizona Mining was purchased by South32, their drill rigs were systematically marching towards the property boundary where the high-grade discovery holes reside on the Sunnyside property. The Sunnyside porphyry itself sits entirely within the Barksdale claim position and is an incredible asset. Sunnyside is a site to watch for when the permit is granted.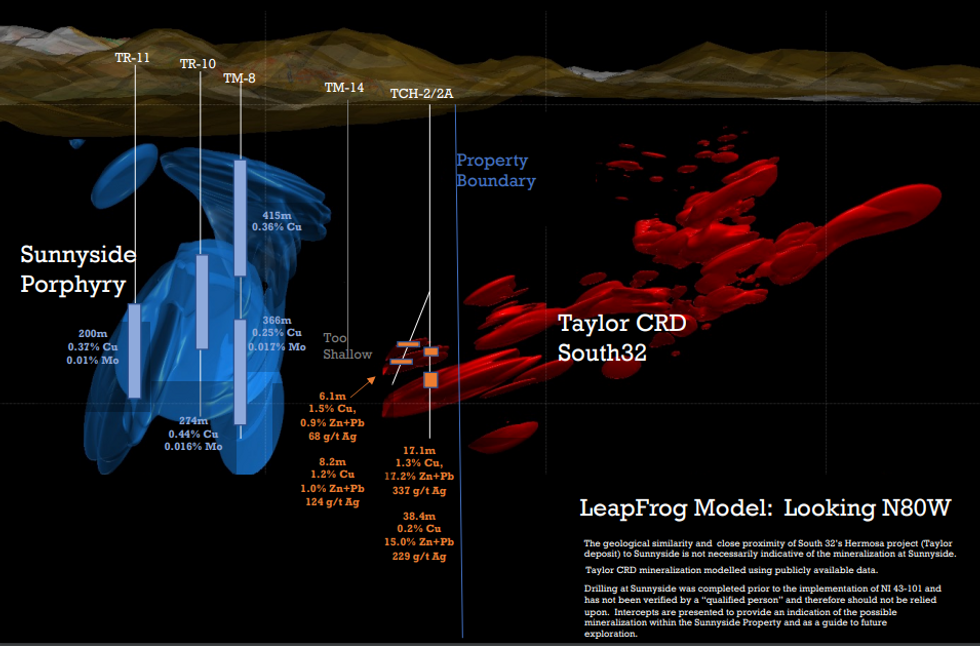 Not only does the Sunnyside porphyry contain copper, it is also a major source of lead, zinc and silver. Seen in the above photograph are increasing levels of silver, copper and especially zinc, from TCH -1 and TCH -2 drill holes next to the property boundary. South32's Hermosa project hosts one of the largest zinc deposits in the world, which sits next to Barksdale's property.
San Javier Project
The San Javier project is located in Sonora, Mexico, approximately 125 kilometers east of the capital city of Hermosillo. The property consists of 12 distinct mineral concessions covering about 1,184 hectares of land. To date, multiple zones of copper mineralization have been identified. Due to the San Javier property's lack of mining activities since 2008, Barksdale has a significant first-mover advantage for exploring the project and consolidating the district.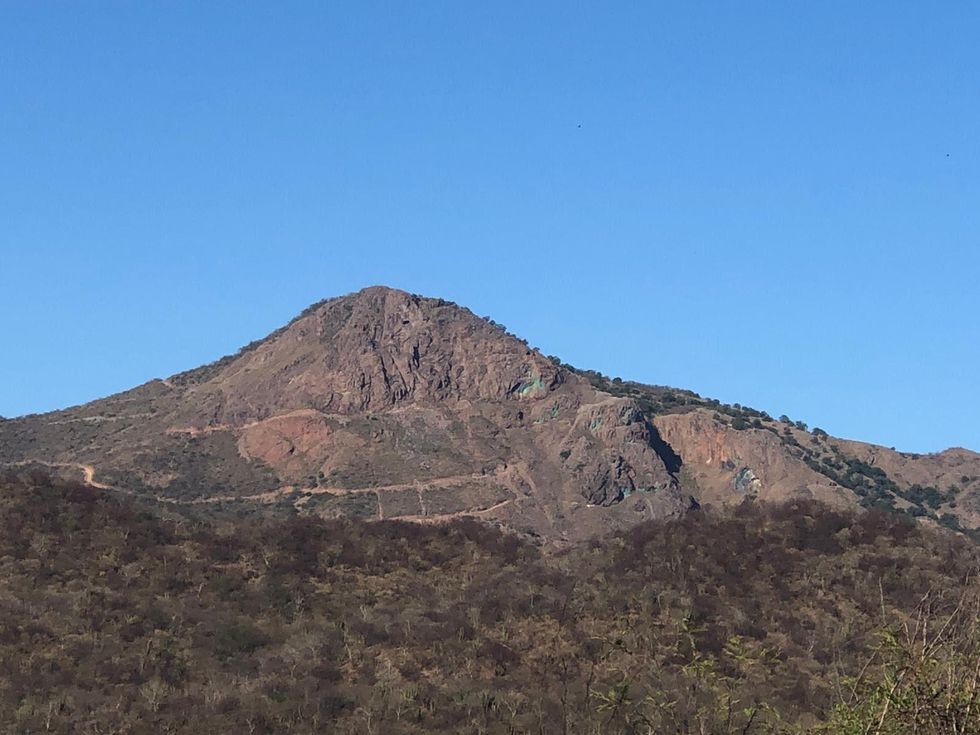 The San Javier project has shown mining and investor interest as multiple companies have previously explored the property, including Servicios Industriales Peñoles, Phelps Dodge, Outokumpu Oyj and Constellation Copper.
Historically, there has been roughly 30,000 meters of drilling completed in three separate zones, two of which are historically producing and contain high-grade copper and other precious metals. With these discoveries, San Javier has shown the potential to mimic the success of other high-profile copper mines in the area – the Sonora region is home to Cananea (Grupo Mexico, BMV: GMEXICOB), the largest copper mine in all of Mexico, and one of the largest in the world.
Barksdale's objectives are clearly defined, and they are actively working on preparing an updated resource and subsequent PEA.
San Antonio Project
The San Antonio project is located in the Patagonia Mountains of southern Arizona. The company's primary exploration focus at San Antonio is an untested, near-surface, blind porphyry copper target. Extensive geophysical research, including magnetics, IP, gravity and passive seismic have outlined a geophysical anomaly that has the hallmark signature of a porphyry copper deposit sitting beneath shallow, non-mineralized cover.
Barksdale has successfully obtained a drill permit on the San Antonio project, and intends to test the target in 2023.
With land for exploration spanning over 25.5 square kilometers, the project is favorably positioned in Patagonia's rich mineral region and easily accessible to experienced workforces and necessary infrastructure.
The company owns 100 percent of the project, which was acquired from Teck Resources (TSX:TECK.A, NYSE:TECK).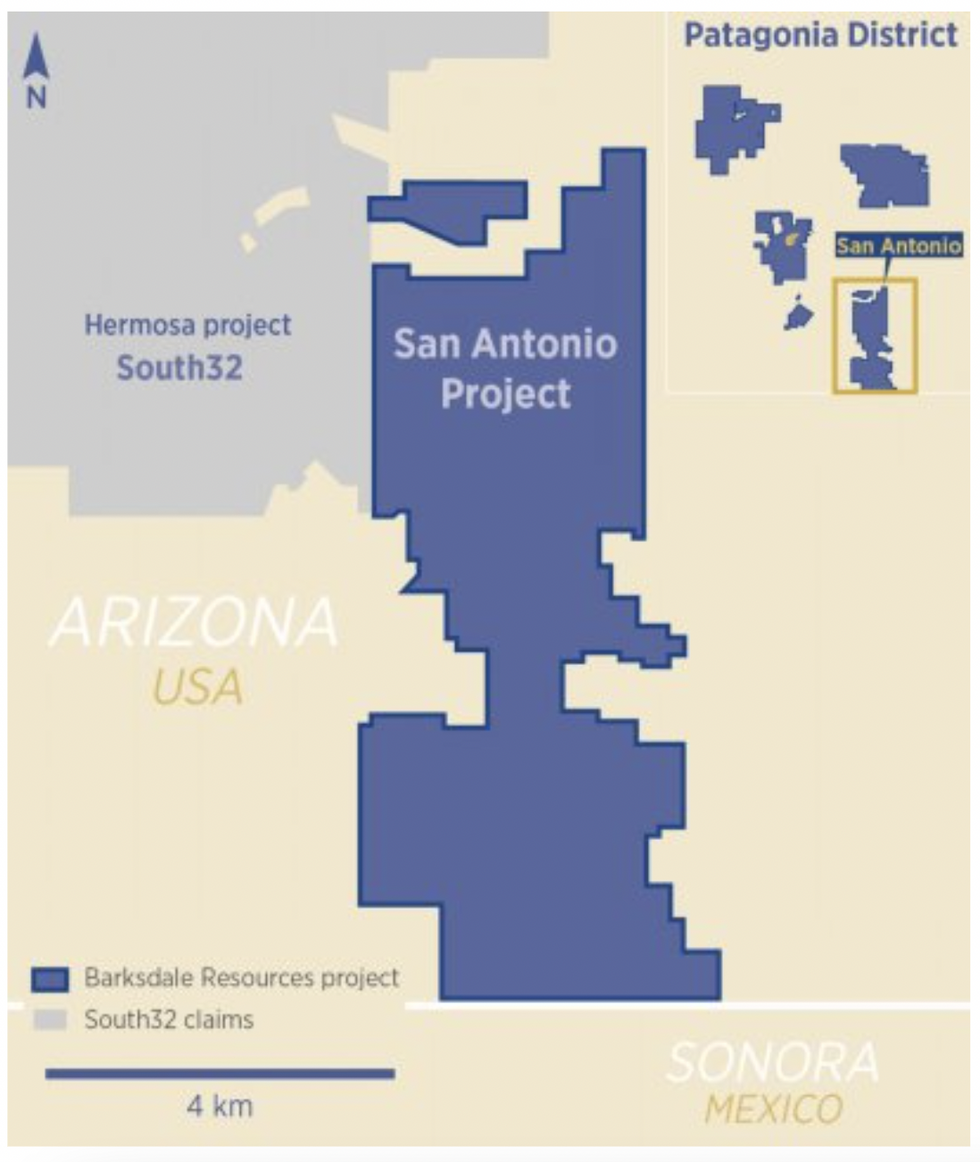 Four Metals Project
The Four Metals project is situated on a 760-acre property surrounded by federal mineral claims held by South32. Like Barksdale's other projects, this site is positioned in the Patagonia district of southern Arizona, approximately 4 kilometers south of the Sunnyside property.
The Four Metals property area covers the former Four Metals copper mine that has been past-producing and historically explored by several mining companies since the 1960s.
The mineralization also consists of supergene enriched chalcocite at the near-surface level, with a broad foundation of primary pyrite, chalcopyrite and molybdenite. Barksdale plans to test the Four Metals property further.
The company currently has an option to acquire a 100 percent interest in Four Metals from Minquest Ltd. and Allegiant Gold Corp.
Management Team
Rick Trotman – President & CEO
Rick Trotman is a professional geologist with a broad range of experience within the mining industry, having worked in both buy-side and sell-side positions and technically focused responsibilities with major mining companies. Trotman was previously with Resource Capital Funds, a leading mining-focused private equity firm. He was involved in executing a broad range of investments spanning the precious, base and minor metal spaces. Before Resource Capital Funds, Trotman worked as a mining industry equity research analyst in New York City and was an exploration geologist with leading gold producers such as Barrick Gold Corp, Meridian Gold Inc. and Yamana Gold Inc. in both the USA and Mexico. He holds a Master of Science in Economic Geology from the University of Nevada Reno and a Bachelor of Science in Geology from Washington State University.
Michael N. Waldkirch – CFO
Michael N. Waldkirch is a senior partner with the Public Accounting firm Michael Waldkirch and Company, Certified Public Accountants in Vancouver, BC. He has extensive experience in providing a wide variety of financial and business consultancy services to public and private companies. Waldkirch currently serves as the chief financial officer of TSX-listed Gold Standard Ventures. Waldkirch holds a Bachelor of Arts in Economics from the University of British Columbia and has been a certified public accountant since 1998.
Andrew Pooler – Senior Vice-President of Project Development
Andrew Pooler has more than 30 years of experience as a mining engineer and operations executive with numerous companies throughout the Americas. Pooler has had a tremendous track record of success that includes executive roles at Pan American Silver Corp, Esperanza Resources, Amax Gold Inc., Maritime Resources Corp, Abacus Mining and Exploration Corp, among others. He has extensive US and Latin American experience and has overseen the successful construction, expansion and/or operation of more than 16 mines, as well as completion of numerous technical and development studies. Pooler is also a current board member of the Colville Tribal Federal Corporation, a diversified company owned by the Confederated Tribes of the Colville Reservation in Washington state, a business that has more than 500 employees and over US$100 million in annual revenue.
Thomas Simpson – Senior Vice-President of Exploration
Thomas Simpson has more than 40 years of extensive mineral exploration and mining experience with base and precious metals in the US, Canada, Chile and Peru. Simpson has a strong track record of discovery, having successfully identified precious and base metal deposits in Canada and the US. His prior roles include Principal Geologist with Rio Tinto Exploration, Geology District Manager for Newmont Mining, and Exploration Manager for ASARCO, where he spent significant time exploring for copper porphyries in Arizona, including the Patagonia district where Barksdale's key projects are located.
Terri Anne Welyki – Vice-President of Corporate Communications
Terri Anne Welyki has more than 15 years of experience working with public and private mining companies, including Calico Resources and EMC Green Group S.A. She has a broad knowledge of the mining industry, including financing, permitting and stakeholder management, and has worked across the United States, Peru and Canada.
Nancy Heiser – Director of External Relations
Nancy Heiser has many years of experience working in community and government relations in Southern Arizona. Heiser has extensive knowledge of stakeholder and constituent management as well as communications and public relations strategies. Before joining Barksdale, Heiser worked for Hudbay Minerals Inc. and led the community relations team for Congresswoman Martha McSally. Heiser's background is in education with undergraduate and graduate programs in elementary and special education from Northern Arizona University.
Lewis Teal – Senior Consultant & QP
Lewis Teal is a certified professional geologist with more than 35 years of experience in minerals exploration spanning both North and South America. Lewis worked with Newmont Mining Corporation in various senior positions, including group executive at South American Exploration/Development from 2011 to 2015, director at South America Generative Exploration from 2006 to 2011, and exploration manager, Newmont – Minera Yanacocha from 2002 to 2006. Lewis holds a Master of Science in Economic Geology and a Bachelor of Science in Geology, both from the University of Texas at El Paso.
Peter Megaw – Senior Technical Advisor
Peter Megaw is a co-founder and chief exploration officer of Mag Silver Corp with more than 30 years of relevant experience focused on silver and gold exploration in Mexico. He has a Ph.D. in geology from the University of Arizona, and he is a registered certified professional geologist by the American Institute of Professional Geologists as well as an Arizona registered geologist. Megaw has been instrumental in several mineral discoveries in Mexico, including new ore bodies at existing mines such as Excellon Resources' Platosa mine and MAG Silver's Juanicipio and Cinco de Mayo properties. Megaw is the author of numerous scientific publications on ore deposits and is a frequent speaker at academic and international exploration conferences. He is also the 2017 recipient of the prestigious Thayer Lindsley Award for mine finding from the Prospectors and Developers Association of Canada.
window.REBELMOUSE_LOWEST_TASKS_QUEUE.push(function(){
var scrollableElement = document.body; //document.getElementById('scrollableElement');
scrollableElement.addEventListener('wheel', checkScrollDirection);
function checkScrollDirection(event) { if (checkScrollDirectionIsUp(event)) { //console.log('UP'); document.body.classList.remove('scroll__down'); } else { //console.log('Down'); document.body.classList.add('scroll__down'); } }
function checkScrollDirectionIsUp(event) { if (event.wheelDelta) { return event.wheelDelta > 0; } return event.deltaY < 0; } }); window.REBELMOUSE_LOWEST_TASKS_QUEUE.push(function(){ !function(f,b,e,v,n,t,s){if(f.fbq)return;n=f.fbq=function(){n.callMethod? n.callMethod.apply(n,arguments):n.queue.push(arguments)}; if(!f._fbq)f._fbq=n;n.push=n;n.loaded=!0;n.version='2.0'; n.queue=[];t=b.createElement(e);t.async=!0; t.src=v;s=b.getElementsByTagName(e)[0]; s.parentNode.insertBefore(t,s)}(window,document,'script','https://connect.facebook.net/en_US/fbevents.js'); fbq('init', '2388824518086528'); });



Source link