Overview

Future demand for nickel is projected to reach an all-time high, with much of that growth coming from the electric vehicle (EV) industry. Within that industry alone, global nickel demand is expected to reach 2.6 million metric tons by 2040. Nickel is an important component of EV batteries, and as EVs replace the majority of gas-powered vehicles, industry observers believe global demand for nickel will quadruple over the next 30 years.
Generating enough supply, however, is a continuing challenge. The nickel industry is slow to increase capacity, requiring significant shifts upward in nickel prices as demand rises before there is a supply response. High-profile industry experts like Robert Friedland, executive co-chairman of Ivanhoe Mines and Elon Musk, CEO of Tesla, have expressed a need for more nickel production in the future, while CEO and chairman of General Motors, Mary Barra, stated the need for electric vehicles in the future. Major automotive manufacturers have committed to hybrid and electric vehicles, and international government policies from the US, EU and China aim to continue this trend toward zero carbon emissions by 2050.
Nickel Creek Platinum Corp. (TSX:NCP; OTCQB:NCPCF) is a Canadian mining exploration and development company focused on delivering value to stakeholders through diversified exposure to nickel, copper and platinum group metals (PGM) in Canada's Yukon Territory. The company's principal business activity is the exploration and evaluation of its 100-percent-owned Nickel Shäw project, located in southwestern Yukon.
Nickel Creek Platinum's Nickel Shäw project contains 1.9 billion pounds of nickel, 1.1 billion pounds of copper and nearly 6 million troy ounces of platinum, palladium and gold. PGMs account for approximately a quarter of the project's resources and represent one of the larger PGM resources outside of South Africa and Russia. Copper, which is also critical to the electric vehicle infrastructure, accounts for 13 percent, while cobalt, another necessary metal for the battery market, makes up 7 percent of the project's resource.
Nickel Creek Platinum enjoys the support of the Yukon government and maintains a strong relationship with the Kluane First Nation and the local community for the Nickel Shäw project. An advisory committee facilitates communication between the company and the local community to address any issues or concerns regarding the project. Nickel Creek also offers community support, training and employment opportunities.
With a strong commitment to ESG, Nickel Creek continues to collect baseline environmental data on the Nickel Shäw for permitting purposes and is confirming the science behind the opportunity for carbon sequestration of the future tailings produced, ultimately illustrating a low-carbon footprint for the project.
Thanks to the mining-friendly Yukon Territory and positive relationships with the First Nations and local governments, Nickel Shäw is on its way to becoming one of the most productive initiatives in the region.
The US and Canada both see nickel and cobalt as critical metals of strategic importance, and Stuart Harshaw, president and CEO of Nickel Creek, is confident the organization can help fulfill that need. "We have completed extensive metallurgical testwork on the full representation of the deposit to produce a product that can go to market. With our higher value per tonne than other similar projects, Nickel Creek Platinum is well positioned to move forward," Harshaw said, adding he sees the company "producing nickel for over 25 years."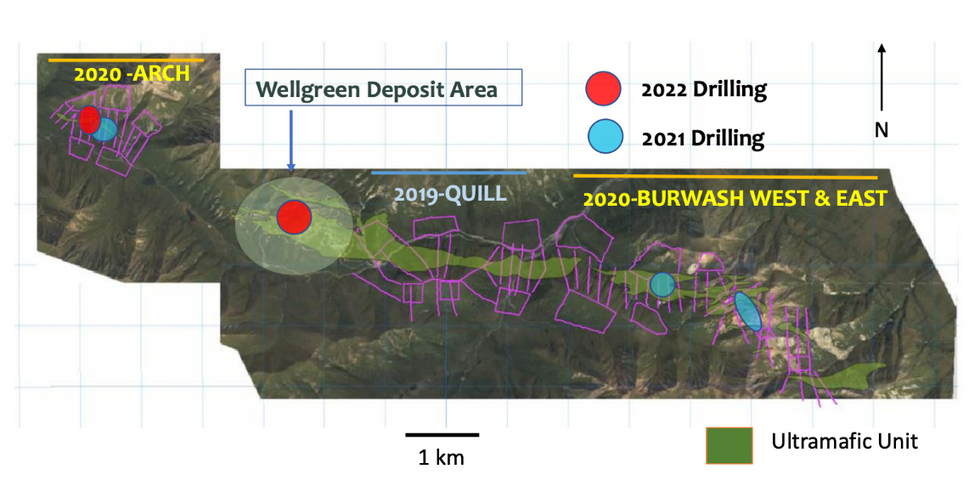 An undeveloped nickel sulphide deposit in the Yukon, the Nickel Shäw project boasts a favourable location and a diverse resource base of various metals including copper, cobalt and PGMs. Investors will be exposed to several different metals when working with Nickel Creek Platinum.
The project hosts over:
1.9 billion pounds of nickel
1.1 billion pounds of copper
5.7 million ounces of PGMs
107 million pounds of cobalt
The project is located southwest of Canada's Yukon Territory, approximately 300 kilometres west-northwest of the capital, Whitehorse. This locale grants the project exceptional infrastructure, including the paved Alaska Highway and its year-round access to deep sea shipping ports in Haines and Skagway. There is potential for railway access in the future as well as options for renewable energy with the local community.
The company completed its 2022 drilling program, with a total of 3,300 meters dilled, which includes a 2,000-meter prefeasibility study drilling at the Wellgreen deposit. Samples have been delivered to the assay laboratory, with results expected by the first quarter of 2023.
Management Team

Stuart Harshaw – President, CEO, Director
Stuart Harshaw is a seasoned mining executive with a successful international career with Vale SA and Inco Limited. Most recently, as vice-president of Ontario Operations for Vale, Harshaw was responsible for the company's base metal operations in Ontario, which included six underground mines, a mill, smelter, nickel refinery, cobalt refinery, precious metal refinery and hydro-electric production facilities.
He held various senior roles with Vale including marketing and sales for a broad range of metal concentrates and finished metals worldwide.
Since leaving Vale, he has been consulting in the global mining business and is a member of the board of directors of several mining companies, as well as the Laurentian University of Sudbury, Canada. Harshaw earned a BSc. in metallurgical engineering from Queen's University and an MBA from Laurentian University.
Joe Romagnolo – Senior Vice-president and Chief Financial Officer
Joe Romagnolo has extensive experience in the mining sector and in all areas of external financial reporting, budgeting, compliance and cash flow management. He has also implemented financial reporting systems at all stages of a company's growth and development from exploration to construction.
Romagnolo was recently with OceanaGold Corporation and Romarco Minerals Inc. He was responsible for the successful conclusion of over $500 million in equity financings and integrally involved in a US$200 million project debt financing with a syndicate of international banks with Romarco.
Before that role, Romagnolo was corporate controller of Centenario Copper Corporation, Atlas Cold Storage, and The Molson Companies Limited. He is a chartered professional accountant and a member of the Institute of Chartered Professional Accountants of Ontario.
Heather White – Advisor to Technical Committee of the Board of Directors
Heather White has over 20 years of experience in the mining industry where she has served in senior operating and executive roles with major companies like NOVAGOLD Resources, Vale Canada, and Voisey's Bay Nickel Company. She was also the Chief Mine Engineer and subsequently Mine Manager for Voisey's Bay, where she was responsible for the development of the Feasibility Study through to mine operations.
White is a professional mining engineer and president of White Mining Consulting Inc. She offers her advisory services, including qualified person and project management services for resource development, scoping analysis, PEA, PFS, and FS level mining studies to a diverse group of clients that includes The Electrum Group LLC, NOVAGOLD Resources Inc., Trilogy Metals Inc., and most recently Nickel Creek Platinum Corp.
During her time at Vale, White gained extensive experience in the nickel market, having planned and managed the worldwide nickel supply chain for Vale. Her duties involved the alignment of production of all products at all finished nickel smelting and refining facilities with market demand.
Cameron Bell – Consulting Geologist
Cameron Bell is a geologist who has spent most of his career with Inco and Vale, engaged in both greenfield and brownfield exploration for base metals, potash and coal. Bell held senior technical and management roles at Voisey's Bay and the Sudbury Basin, as well as the positions of regional exploration manager, North America and Australasia. In the 1990s, he was involved in belt-scale Ni-Cu-PGE exploration of the Kluane district in southwest Yukon. He completed his BSC at McMaster University and his MSc at the University of British Columbia. More recently, Bell worked as an exploration consultant focusing on nickel, copper and lithium projects.
Myron Manternach, B.Sc., MBA – Chairman of Board of Directors
Myron Manternach is president of Castle Grove Capital, LLC, an investment firm that provides strategic and financial advice, and raises capital for institutional investors and portfolio companies. He has over 25 years of experience in corporate finance, mergers and acquisitions, and corporate issuers. Manternach worked as an investment banker at JPMorgan Chase & Co. and as an analyst and manager of institutional investment funds with extensive experience in the mining and metals industry. Most recently, he was executive vice-president, finance and corporate development at Lithium Americas Corp., and managing director and senior portfolio manager of Ambac Assurance Corp., a subsidiary of Ambac Financial Group. He has been a director of Nickel Creek Platinum Corp. since July 2012 and was previously a director of Lithium Americas Corp. prior to its merger with Western Lithium Corp. Manternach holds a B.Sc. in electrical engineering with distinction from Iowa State University and an MBA from the Wharton School of the University of Pennsylvania.
Mike Sylvestre, M.Sc., P.Eng. – Director
Mike Sylvestre is currently the senior vice-president, Americas operations, for Kinross Gold Corporation. For most of his career, Sylvestre worked with Inco Ltd. where he held senior management positions domestically and internationally. Most notably, he was the CEO of Vale Inco, New Caledonia, president of Vale Inco, Manitoba operations, and the vice-president of operations PT Inco, Indonesia. Sylvestre was also previously the president and CEO of Castle Resources Inc. and the interim CEO of Claude Resources Inc., as well as chair of the board. Sylvestre brings over 40 years of mining experience to Nickel Creek Platinum. He holds a M.Sc. and a B.Sc. in mining engineering from McGill University and Queen's University, respectively. He is a member of the Professional Engineers of Ontario and the Canadian Institute of Mining. Sylvestre is also a graduate of the directors' education program offered by the Institute of Corporate Directors in partnership with the Rotman School of Management, University of Toronto.
Michele S. Darling – Director
Michele Darling has over 30 years of global business experience, with particular expertise in Human Resources Management and Corporate Governance. She is the President of Michele Darling and Associates Inc., a management consulting business that provides human resources and strategic planning consulting services to Canadian and American businesses. Prior to establishing her consulting practice, Ms. Darling was the Executive Vice President, Corporate Governance and Human Resources, with Prudential Financial, Inc. from 1996 to 2002. She played a very significant role in the transformation of Prudential Financial from a mutual company into a public company and was honoured as Human Resources Executive of the Year in 2000. From 1991 to 1996, she was the Executive Vice President, Human Resources at Canadian Imperial Bank of Commerce, having joined the bank in corporate banking. Ms. Darling also held various Human Resources positions during her 10 years with The Oshawa Group Limited. Ms. Darling was a Director with Stornoway Diamond Corporation during 2018 and 2019 and a Director with Osisko Mining Corporation from 2012 – 2014. Ms. Darling holds a Bachelor of Arts (Honours) degree from the University of Sydney and obtained her Master's degree in Education from the University of Toronto. Ms. Darling is a certified Human Resources Professional, and she is also a graduate of the directors' education program offered by the Institute of Corporate Directors (ICD) in partnership with the Rotman School of Management, University of Toronto.
Wayne Kirk – Director
Wayne Kirk has over 35 years of experience as a corporate attorney, including nine years' experience as vice-president, general counsel and corporate secretary of Homestake Mining Company, and over 16 years of experience as a board member of publicly held companies, including as a member of audit and governance committees. He is currently a member of the board of directors of Northern Dynasty Minerals Ltd. Kirk holds a B.A. in economics (Distinction) from the University of California (Berkeley) and an LL.B (magna cum laude) degree from Harvard University and has been a member of the California Bar since 1969.
Mark Fields – Director
Mark Fields has over 30 years of experience in increasingly senior positions in the mineral exploration and mining industry with major and junior companies and currently operates his consulting practice, MC Fields Ventures Inc. Fields has and continues to serve on boards of publicly held companies involved in mineral exploration and development and on March 15, 2017, Fields was appointed as the interim president and CEO of Discovery Harbour Resources Corp. and on December 17, 2019 was appointed president and CEO. He was involved in the acquisition and development of the Diavik diamond mine for the Rio Tinto Group through the 1990s. Fields was vice-president of La Teko Resources Ltd. when it negotiated a friendly take-over by Kinross Gold Corporation. As executive vice-president of Pine Valley Mining Corporation, he was a key member of the executive team which brought the Willow Creek metallurgical coal mine into commercial production, for which he received the E.A. Scholz Award for excellence in mine development. Fields was president and CEO of Geodex Minerals from 2009 through 2014 and negotiated the joint venture and sale of the Sisson tungsten-molybdenum project to Northcliff Resources followed by the re-organization of Geodex Minerals. Fields holds a B.Sc. in geology from the University of British Columbia and a B.Comm. (Honours) from Queen's University.
window.REBELMOUSE_LOWEST_TASKS_QUEUE.push(function(){
var scrollableElement = document.body; //document.getElementById('scrollableElement');
scrollableElement.addEventListener('wheel', checkScrollDirection);
function checkScrollDirection(event) { if (checkScrollDirectionIsUp(event)) { //console.log('UP'); document.body.classList.remove('scroll__down'); } else { //console.log('Down'); document.body.classList.add('scroll__down'); } }
function checkScrollDirectionIsUp(event) { if (event.wheelDelta) { return event.wheelDelta > 0; } return event.deltaY < 0; } }); window.REBELMOUSE_LOWEST_TASKS_QUEUE.push(function(){ !function(f,b,e,v,n,t,s){if(f.fbq)return;n=f.fbq=function(){n.callMethod? n.callMethod.apply(n,arguments):n.queue.push(arguments)}; if(!f._fbq)f._fbq=n;n.push=n;n.loaded=!0;n.version='2.0'; n.queue=[];t=b.createElement(e);t.async=!0; t.src=v;s=b.getElementsByTagName(e)[0]; s.parentNode.insertBefore(t,s)}(window,document,'script','https://connect.facebook.net/en_US/fbevents.js'); fbq('init', '2388824518086528'); });



Source link