Overview

The global helium market is expected to increase from $4.45 billion in 2022 to $5.03 billion in 2023 at a compound annual growth rate of 12.9 percent driven by the growing demand for helium from the healthcare industry. Helium is important in medicine because this rare element is used in various ways, one of which is as a refrigerant capable of cooling the superconducting magnets in MRI scanners. This non-reactive, non-corrosive, non-flammable noble gas is not only used in diagnosis equipment but also as an adjunct therapy for certain diseases like COPD, asthma and bronchiolitis.
Although helium is the second most common element on earth, global helium supplies are running low. Resource companies that supply industries dependent on helium should explore potential helium reserves and evaluate data to come up with a unique strategy for increasing helium production.
VVC Resources (TSXV:VVC; OTCQB:VVCVF) engages in the exploration, development and management of natural resources – specializing in scarce and increasingly valuable materials needed to meet the growing, high-tech demands of industries such as manufacturing, technology, medicine, space travel and the expanding green economy.
The company's portfolio includes a diverse set of assets and high-growth projects, comprising: helium and industrial gas production in western US; copper and associated metals operations in northern Mexico; and strategic investments in carbon sequestration and other green energy technologies.
VVC currently targets helium reserves in the US by reactivating old gas wells and drilling new wells. In January 2022, the company engaged Foreland Operating to manage the day-to-day helium operations going forward. And in March 2022, VVC announced the successful completion and connection of its first helium well in the Syracuse Project. The well, known as the Levens #2, was connected to Tumbleweed Midstream's Ladder Creek Pipeline, which transports gas to the Ladder Creek Helium Processing Plant in Cheyenne Wells, Colorado. VVC further confirmed the presence of helium up to 1.14 percent from its second drilled well in the Syracuse Project.
VVC also acquired the Monarch Project to further capitalize on the growing demand for helium due to increased global usage. The Monarch Project consists of more than 1,700 acres of gas leases located in Greely County, Kansas with six existing wells. Minor repairs were made to five of the six wells, restoring electric power service, and began generating revenue from the natural gas and helium at low volumes. The focus of this project is the 14 additional potential well locations which are conveniently located for connection to the Tumbleweed pipeline.
VVC's helium portfolio reached another significant milestone with the installation of 14 miles of its internal gathering system pipeline in the Syracuse Project. The major infrastructure will seamlessly transport gas produced by the company's helium and natural gas wells to a nearby processing plant. The milestone increases the pipeline's length from 7 to 14 miles and the project's capacity from 50 to 100 wells.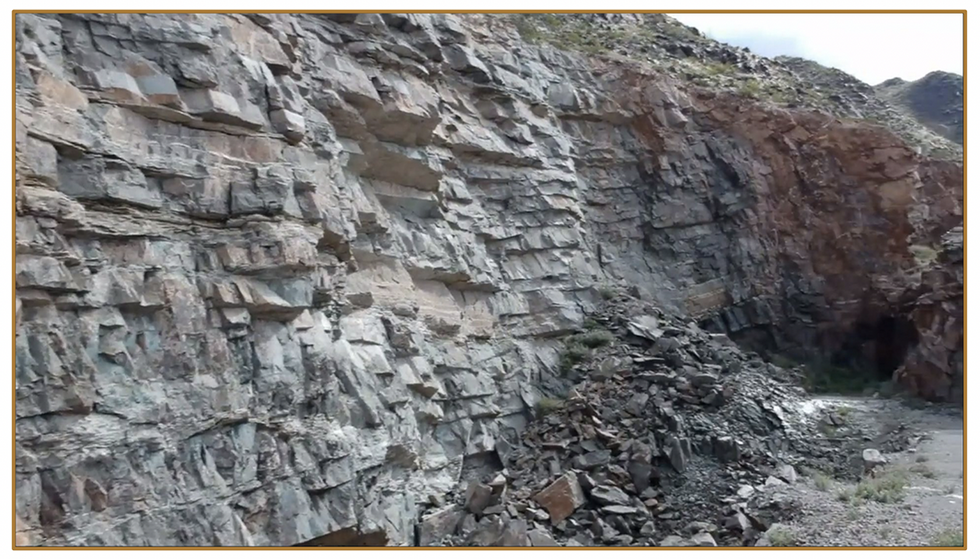 VVC is advancing its Samalayuca copper property in Mexico towards production. The 4,055-acre Samalayuca property is situated in the northern part of Mexico's Chihuahua state in the Sierra Madre region 60 kilometers southwest of El Paso, Texas. The project is also supported by infrastructure including an access road and an available mining workforce.
Gloria is a sedimentary-hosted project with a copper resource of 59.4 million pounds, indicated (9.6 million tonnes grading 0.28 percent copper) and 89.33 million pounds, inferred (14.4 million tonnes grading 0.28 percent copper). VVC has received both environmental and land use change permits allowing the company to initiate pilot mining operations at Gloria. The Gloria project is now ready for pilot mining and can begin producing copper, gold and silver within nine months of financing. The project is fully permitted.
The company also has two wholly owned properties in Mexico's mining-friendly jurisdiction of Cumeral. Both projects are gold-bearing and are at different points in the exploration process. VVC Exploration's Timmins project in Canada is a greenfield project and the only project outside of Mexico.
VVC Exploration is led by a management team with a wealth of mining experience and is supported by a board of directors with significant influence in both the mining and financial industries. The management and board are also notably invested in the company, with the CEO, members of management and the board of directors listed as top investors. As a whole, the company has a tight share structure with over 90 million shares held by the top 25 investors.
Company Highlights

A growing portfolio of helium projects with the acquisition of Plateau Helium Corporation, currently comprising 69 leases covering 16,371 acres known as the Syracuse Helium Project, over 15,000 acres in Syracuse Extension, and 1,720 acres in the Monarch property.
The Syracuse Extension Kansas Project located in western Kansas is in proximity to historical wells that tested helium rich natural gas but were never put into production, because of low helium and natural gas prices at that time. To date, over 10,000 acres have been leased in areas with over 24 wells that were previously drilled, flowed gas that tested helium in excess of 2 percent, and then plugged
The Syracuse Extension Colorado Project located in Cheyenne County, Colorado, comprises 5,607 acres of gas leases, with a total of 26 historical wells that were previously drilled, flowed gas that tested helium in excess of 2% and then plugged.
Flagship copper property in mining-friendly jurisdiction of Mexico with a copper resource of 59.4 million pounds and supported by existing infrastructure and available workforce
Acquired Monarch Lease, a 1,720-acre helium property that is located in the Byerly Field in Greely County, Kansas
Engaged Foreland Operating to manage the day-to-day helium operations moving forward.
Successfully completed and connected its first helium well known as the Levens #2 in the Syracuse Project. The company confirmed the presence of helium up to 1.14 percent.
Installed fourteen miles of internal gathering system pipeline to transport helium and natural gas wells to a nearby processing facility.
Strategic investment in Proton Green as part of its carbon capture venture. Proton Green's focus project, the St. John's Field, contains 33 billion cubic feet of helium and the ability to inject up to 22 million metric tons of CO2 per year at its primary basin
Traded on both the OTCQB under the symbol "VVCVF" and the TSX Venture Exchange under the symbol "VVC.V"
Key Projects

Helium Portfolio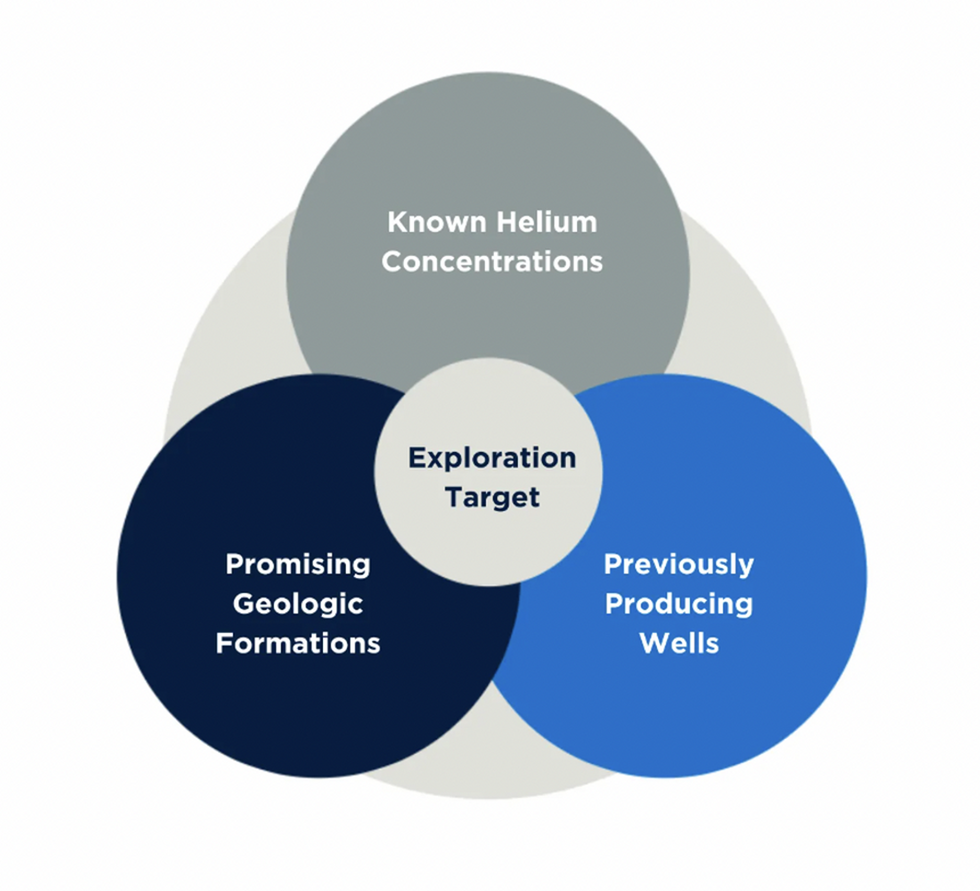 Plateau Helium Corporation
In January 2021, VVC Exploration acquired Plateau Helium Corporation (PHC), a Wyoming Corporation focused on helium exploration and development, primarily in the western US. PHC's initial target project is located in Kansas and currently comprises 69 leases covering 16,371 acres known as the Syracuse Helium Project.
Plateau Helium Corporation engaged Foreland Operating to manage the company's helium production. Foreland Operating is a Texas-based upstream oil and gas operating company with a long-tenured team that has been operating in many of the premiere US basins including the Barnett Shale, the Marcellus Shale and the Permian Basin.
Syracuse
Syracuse is VVC's helium project with 16,371 acres of contiguous oil and gas leases. The company has identified 15 well sites in the area with internal estimates of a future resource of 75 Bcf of gas. Currently, Syracuse has 22 well sites permitted or currently being permitted, each with the potential to produce over 1 billion cubic feet of gas.
In 2022, the company announced it successfully completed and connected its first helium well in the project. The well is known as the Levens #2 and was connected to Tumbleweed Midstream's Ladder Creek Pipeline allowing the transport of gas to the Ladder Creek Helium Processing Plant in Cheyenne Wells, Colorado. The Levens #2 was successfully drilled to a depth of 2,478 feet and encountered multiple gas zones.
Syracuse Extension Colorado
VVC Exploration through its wholly owned subsidiary PHC acquired a new gas property known as Syracuse Extension Colorado, a 5,607-acre property located in Cheyenne County, Colorado that includes two gas wells drilled in 1989-1990 which were never put into production.
This property is adjacent to a pipeline which is linked to a nearby helium processing plant. Both wells contain methane and helium. At the time of drilling, one well had tested over 2,000 mcf per day and the other, over 3,000 mcf per day, of helium rich gas. These historical results have not been verified by PHC or any other independent party.
SEC has 28 previously drilled, tested, and capped – low dry hole risk with average helium concentrations of 3 percent. The project is located in a relatively high helium concentration area and connected to a nearby processing plant.
Based on the production history in the area, VVC has an internal recovery estimate of 1.2 Bcf per well with a potential of building up to 60 well sites.
Syracuse Extension Kansas
Syracuse Extension Kansas (SEK) is a 10,422-acre property located in western Kansas and covers the Morrow reservoir. The Morrow in Kansas was initially an oil play discovered in the late 1970s and early 1980s with average helium concentrations between 1.5- to 3 percent.
VVC has identified initial drilling locations in SEK and is creating a development plan for the area. VVC estimates a recovery of 1.2 Bcf of gas per well.
Monarch Lease
VVC purchased the Monarch Lease in April 2021, bolstering VVC's ability to capitalize on the growing demand for helium, driven by increased global usage. The Monarch Lease is a 1,720-acre property that is located in the Byerly Field in Greely County, Kansas and includes six formerly producing gas wells that are still connected to the Tumbleweed Midstream pipeline. All wells produced both methane and helium. There is additional potential in the deeper zones of this property which VVC will explore.
Copper and Associated Metals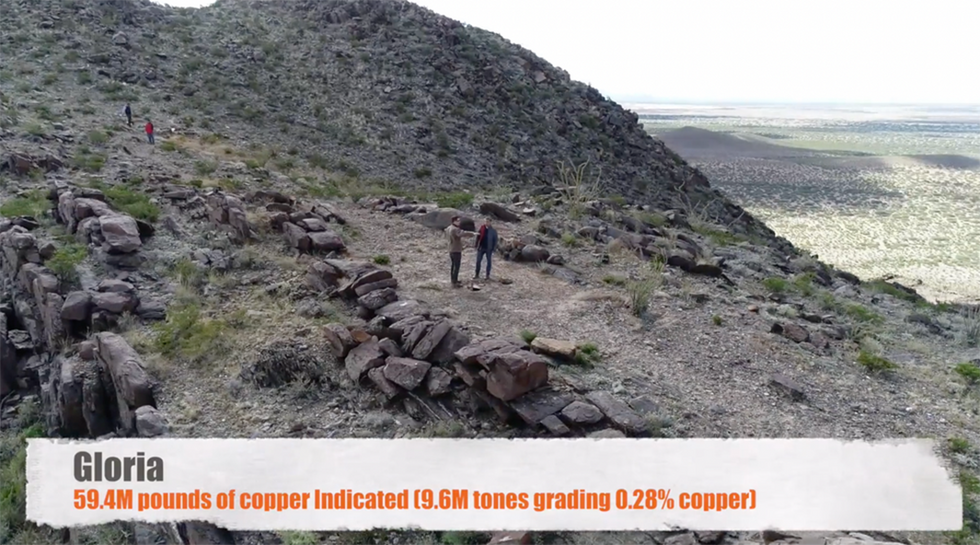 VVC's current copper focus project is Gloria in Northern Mexico which is a host to oxide copper mineralization with a copper resource of 59.4 million pounds, indicated (9.6 million tonnes grading 0.28 percent copper) and 89.33 million pounds, inferred (14.4 million tonnes grading 0.28 percent copper). The property spans 4,055 acres in Chihuahua State and drilling over the past two years has defined a significant copper mineralized zone over a 15-kilometer strike.
Gloria provides VVC with a unique exposure to the copper market. Approximately 100,000 tons of artisanal ore piles on site that have been high graded, hand cobbed (sorted), and can be utilized for pilot/test mining.
Located in Central Sonora Mexico is VVC's 16,622-acre Cumeral gold/copper exploration project. Cumeral covers an epithermal style, mineralized gold/silver zone at least 3.6 kilometers long with geological structure and surface sampling suggest the potential for multi-million ounce gold deposit.
Timmins is VVC's Canadian Greenfields property with single, nine-unit unpatented claims in good standing. The project consists of 16 claims located 48 kilometers east-southeast of the City of Timmins in the Abitibi region of Ontario, Canada. Timmins is also deemed to be a prime target for volcanic massive sulphide (VMS) style base metal exploration.
Carbon Capture
Proton Green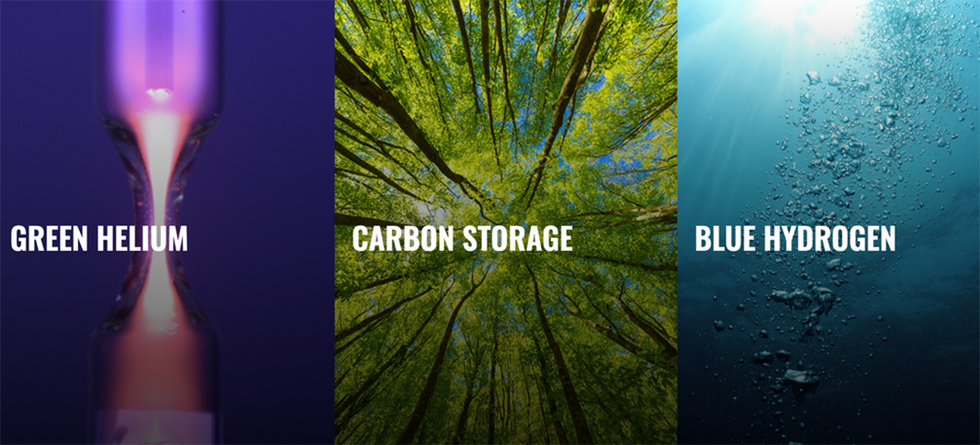 VVC recently made a strategic investment in Proton Green, an energy transition company poised to become one of the leading helium producers and carbon sequestration hubs in North America.
Proton Green, LLC, is a producer of helium and hydrogen, and is building out its position as a large carbon sequestration operator in North America. With operating control over the St. Johns Field, a 152,000-acre property in Apache Country, Arizona, Proton Green controls a helium reservoir and carbon storage basin.
Proton Green's initial project is the St. Johns Field. The St. Johns Field is a massive helium reservoir and immense carbon storage basin located in Apache County, Arizona. Extensive third-party geological studies performed on the property indicate reserves of up to 33 billion cubic feet of helium in shallow, easily accessible reservoirs. Capable of producing one billion cubic feet of helium per year, it will be among the most prolific helium production sites in the world.
It is also projected to be among the largest carbon capture companies in North America, with 22 million metric tons of carbon sequestration per year, and a total storage capacity of over 1 billion metric tons.
Management Team

Terrence Martell – Chairman of the Board
Dr. Terrence Martell is the director of the Weissman Center for International Business at Baruch College and the Saxe Distinguished Professor of Finance where he oversees a myriad of international education programs and projects. He is also the chairperson of the University Faculty Senate and an ex-officio member of the board of trustees at The City University of New York. His area of expertise and research is international commodity markets.
He is a director of the Intercontinental Exchange (ICE) where he serves on the audit committee and has many roles. He serves on the board of the Manhattan Chamber of Commerce and is a member of their executive committee. He is also a member of the New York City District Export Council of the US Department of Commerce and a member of the Reuters/Jefferies CRB Index Oversight Committee. Dr. Martell received his BA in Economics from Iona College and his PhD in Finance from the Pennsylvania State University.
James (Jim) Culver, PhD – President, CEO and Director
Dr. James Culver has spent over 40 years in the fields of commodities, international trade and trade finance, holding posts in government, academia and the private sector. For the last 20 years, he has focused on commodity finance and commodity project finance, primarily in mining and metals and agricultural products. He spent 22 years working in New York City where he most recently managed two private commodity asset-based lending companies and developed hedge funds to support their lending activities.
Previously, Dr. Culver served as chief economist and director of the Economics and Education Division for the Commodity Futures Trading Commission where he was responsible for market surveillance and new product approvals. He also served for five years on the staff of the Committee on Agriculture of the US House of Representatives. In addition, Culver has been an active participant in a family-owned and operated business, The Parsons Group International Education Inc., a for-profit educational services company. He earned his B.Sc. at the University of Tennessee Martin and his MSc. and PhD degrees from the University of Tennessee Knoxville.
Andre St-Michel – Senior Consultant, Mexican Operations
A Canadian mining engineer and geologist residing in Chihuahua, Mexico, Andre St-Michel has over 30 years of experience in the mining business with a focus on mine development, mill operation, administration and finance. He has spent the last 10 years working in Mexico where he currently serves as President and CEO of Freyja Resources.
From 2003 to 2008, he was a senior executive of Dia Bras (now Sierra Metals), responsible for its exploration programs and the start-up of its Bolivar copper and zinc mine. From the initial start-up of the mine in 2005, production reached 450 tons per day in 2006 with annual projected revenues of approximately $27 million and cash flows of approximately $10 million. Prior to 2003, he served as president of ECU Silver Mining, developing programs and properties in the US, Brazil and Mexico. He holds a degree from the Laval University Engineering School and a Master's degree in Project Management from University du Quebec. He is a professional engineer.
Michael Lafrance – Director and Secretary-Treasurer
Michael Lafrance has been VVC Exploration's secretary and treasurer and geological consultant since December 2012. Since 1980, he has served in similar roles with many other publicly-traded exploration companies. He is also the corporate secretary of POET Technologies Inc. (formerly Opel Technologies), a pioneer in the field of integrated circuits. He is a graduate of the University of Ottawa.
Kevin Barnes – CFO
Kevin Barnes has served as the corporate controller and CFO of various public and private companies over the last 12 years. He also served in the role of IT manager and senior accountant with Duguay and Ringler Corporate Services, a firm which provides corporate accounting and secretarial services to publicly-traded companies. He served as the controller of Canada's Choice Spring Water, one of Canada's first publicly-traded bottled water companies.
He currently serves as CFO of Poet Technologies Inc., a pioneer in the field of integrated circuits and Controller of an international training institute with revenues of $100 million. Barnes received a computer operations diploma from Careers Development Institute and has a Certified Management Accountant designation from the ICMA Australia. In 2006, he became a member of the Institute of Chartered Secretaries and Administrators of Canada.
Peter Dimmell – Director
Peter Dimmell is a geologist and prospector who has been involved in mineral exploration in Canada, the United States and overseas for 38 years. He is experienced in all aspects of the mining industry and has guided on-site operations from exploration through to production. He is a past president of the Prospectors and Developers Association of Canada (PDAC), a director and former chairman of the Newfoundland and Labrador Chamber of Mineral Resources and a councilor and member of the Geological Association of Canada. He sits on the Board of Directors of four other public companies: Arehada Mining Ltd, Linear Gold Corp, Pele Mountain Resources Inc and Silver Spruce Resources Inc, for which he also serves as CEO.
Bruno Dumais – Director
Bruno Dumais is vice-president of finance, for BroadSign International, a Montreal-based provider of digital signage solutions. He possesses over 20 years of experience in financial, forecast and strategic planning and is responsible for overseeing global financial activities. Prior to joining BroadSign, he was the chief financial officer, vice-president of finance and a consultant at Mitec Telecom for seven years. He has also held senior level positions in companies crossing a variety of sectors, such as Gestion Exponent, Nortel Networks and Premier Tech. Dumais is a chartered professional accountant and holds both a Bachelor in Business Administration from the University of Quebec in Rimouski and an International MBA from the University of Ottawa.
Patrick Fernet – Director
Patrick Fernet is a legal, operations, and corporate governance expert with more than twelve years' experience in Canadian small-cap public corporations. He serves as a consultant to VVC on a variety of corporate matters. He has more than 15 years of governance experience with small-cap Canadian corporations.
Scott Hill – Director
Scott Hill has served as chief financial officer of Intercontinental Exchange Inc (ICE) since May 2007. He is responsible for all aspects of ICE's finance and accounting functions, treasury, tax, audit and controls, business development, human resources and investor relations. Hill also oversees ICE's global clearing operations. Prior to joining ICE, Hill was assistant controller for Financial Forecasts and Measurements at IBM, where he oversaw worldwide financial performance and worked with all global business units and geographies. Hill began his career at IBM and held various accounting and financial positions in the US, Europe, and Japan, including vice-president and controller of IBM Japan, and assistant controller, financial strategy and budgets..
Leon Vijay Shivamber – Director
Leon Shivamber is a transformation leader with more than three decades of successful transformations under his belt. He learned about strategy and business integrity during his years at McKinsey & Company, change management, and rapid transformation during his New York Consulting Partners years and high-performance acquisitions during his years at Arrow Electronics. He spent five years leading the prize-winning supply chain and operations transformation at the then Harris Corporation (now L3 Harris Technologies). For three years after that role, Leon extended and applied his transformation experience as a leader and general manager building an international joint venture in the Middle East.
Thereafter, Leon spent three years as CEO leading the vibrant UAE headquartered Atlas Group with strategic businesses in communications, defense, energy, food, healthcare, hospitality, public safety, and security. He also spent two additional years advising Atlas Group and other Middle-East-based corporations on their transformation efforts. Since that time, Leon has returned to the United States and has been acting as a senior advisor to several corporate transformations. He is a fellow, Life Management Institute (FLMI), and a trustee of the board of directors of Baruch College Fund.
window.REBELMOUSE_LOWEST_TASKS_QUEUE.push(function(){
var scrollableElement = document.body; //document.getElementById('scrollableElement');
scrollableElement.addEventListener('wheel', checkScrollDirection);
function checkScrollDirection(event) { if (checkScrollDirectionIsUp(event)) { //console.log('UP'); document.body.classList.remove('scroll__down'); } else { //console.log('Down'); document.body.classList.add('scroll__down'); } }
function checkScrollDirectionIsUp(event) { if (event.wheelDelta) { return event.wheelDelta > 0; } return event.deltaY < 0; } }); window.REBELMOUSE_LOWEST_TASKS_QUEUE.push(function(){ !function(f,b,e,v,n,t,s){if(f.fbq)return;n=f.fbq=function(){n.callMethod? n.callMethod.apply(n,arguments):n.queue.push(arguments)}; if(!f._fbq)f._fbq=n;n.push=n;n.loaded=!0;n.version='2.0'; n.queue=[];t=b.createElement(e);t.async=!0; t.src=v;s=b.getElementsByTagName(e)[0]; s.parentNode.insertBefore(t,s)}(window,document,'script','https://connect.facebook.net/en_US/fbevents.js'); fbq('init', '2388824518086528'); });



Source link