Drilling Mobilization
The Company has mobilized its diamond drill program at its flagship Drayton0Black Lake Project site located in northwestern Ontario approximately 25km East of the town of Sioux Lookout, Ontario by paved highway. AZI Drilling will begin drilling in the Alcona Area, New Millennium and proceed to the Moretti Area, respectively. The Phase 1 Drill Program consists of a 3,600m diamond drill program over the three priority target areas commencing as early as Friday August 4 th , 2023.
Further to the Company's partnership with Mira Geoscience announced on July 20, 2023, Mira Geoscience has produced a geology model for the Alcona and New Millennium targets ahead of schedule giving the Heritage's exploration team a focused geophysical and structural understanding as planned to test numerous targets within the Phase 1 Drill Program, additional targets have been provided and have been incorporated into the program.  The Company will use geoscience best practices including drilling orientated core in order to capture vital structural data that will aid in the refinement of the geologic model. Oriented core is used to assess structural geology that controls mineralization.
"We are excited to have AZI Drilling on site to commence our Phase 1 drill program. The exploration team has done a fantastic job setting up for the drill program ahead of schedule and under budget. They have been invaluable in the process, we appreciate their hard work, dedication, and preparedness. I have been onsite and will remain through the transition, making myself available to our teams as we progress to drilling, this is a material event for the Company, we are all hands on deck." Commented Peter Schloo, President, CEO and Director of Heritage.
Summary of Sampling Results
The results of the surface sampling have be encouraging supporting consistent high-grade gold and gold-silver mineralization at surface across our target areas.
"The 2023 exploration team has progressed the priority targets with a razor-sharp focus. It has been an absolute pleasure working with each of our exploration team members and we look forward to developing additional targets, communicating our progress to stakeholders in the near future. I have frequented the site in recent months to provide onsite support wherever needed, we are boots on the ground, top to bottom, at Heritage and look forward to building current and new relationships in the community as we progress our projects respectfully and systematically.
We have confirmed, extended and expanded our understanding of our three priority target areas from a historical perspective.
Overall, it is a rarity in my opinion to have a high-grade, at surface, gold and gold-sliver mineralized occurrences over kilometers of strike length with two priority targets confirmed at depth from historic drilling and with such closed proximity to existing infrastructure. We look forward to advancing the project in a systemic manner by testing our models.
We look forward to updating everyone on our progress of the phase 1 drill program and are very thankful for the support to date." Commented Peter Schloo, President, CEO and Director of Heritage.
Highlights summarized below for target areas:
Alcona Area: Broad (>200m) composite mineralized deformation corridor over 1,000m (up to 200m wide) consisting of multiple discrete zones of deformed volcanic rocks and shear parallel quartz veins. This corridor is open along strike and at depth.
Highlights include 2.36 g/t Au and 8.00 g/t Ag in sample F809074 and 0.927 g/t Au and 2.08 g/t Ag in sample F809077 (Figure 1). These samples enrich the corridor providing additional mineralization complementing the existing high-grade gold-silver mineralization from surface.
We have also confirmed at surface a 1m wide vein in the field (assays pending) at the eastern extension of the project. Alcona Area is drill ready with over 1km strike extension at surface. Visible Galena, chalcopyrite and pyrite.
Figure 1 – Alcona Area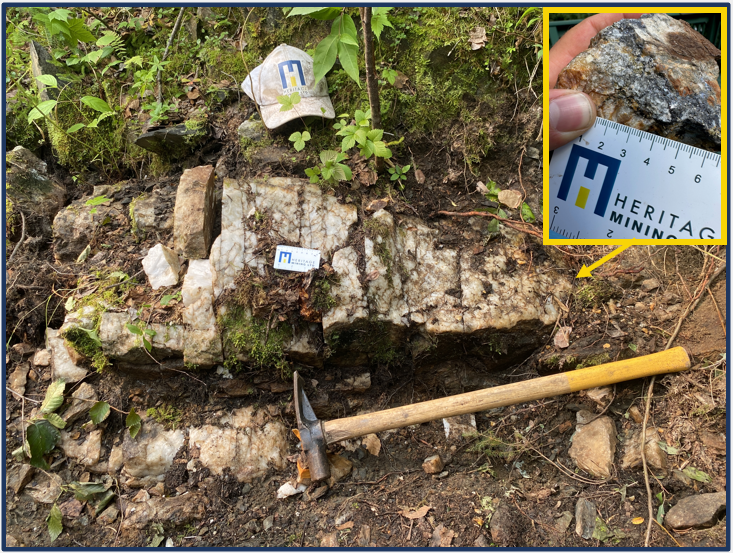 Figure 2 – Alcona East extension 1m wide extension assays pending
New Millennium: At least two mineralized deformation corridors consisting of multiple discrete zones of deformed volcanic rocks and shear parallel quartz veins.
Grab samples from the New Millennium T99-3 and T99-5 trenches along the Central Vein (Figure 3):
F809099 12.4 g/t and 46.7 g/t Ag

F809123 1.54 g/t Au and 0.61 g/t Ag

F809122 0.636 g/t Au and 2.72 g/t Ag

F809121 2.82 g/t Au and 12.05 g/t Ag

F809095 0.784g/t and 3.14 g/t Ag
These results confirm the mineralization along the central vein system and has highlighted areas of higher grade which will help guide the proposed drill plan at New Millennium.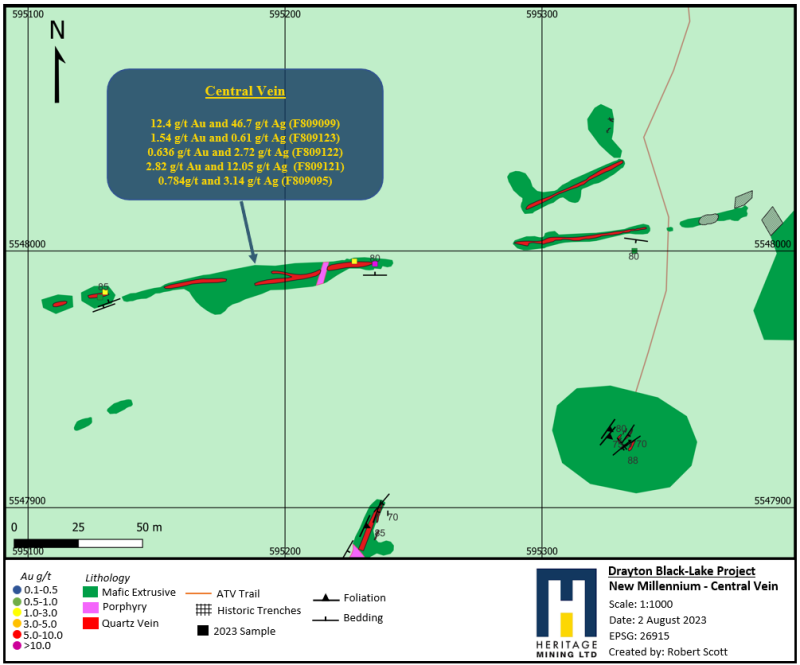 Click Image To View Full Size
Figure 3 – New Millennium – Central Vein
Moretti Area: Mineralized deformation corridor over 2,500m consisting of discrete zones of deformed volcanic rocks and shear parallel quartz veins ranging from cm to meter scale. New Logging activities in the north eastern portion of the Property allow for improved access, ideal for prospecting and drilling over more than five historic mineral occurrences on the property inclusive of the advanced target, Moretti.
At the north vein prospect, a large, well exposed (to the NE-trending Moretti shear) vein was channeled in 2022 (See NR November 29, 2022) along strike to assess the bulk gold tenor of that vein and confirm historical sample results. The 2023 Exploration Team continued indicated channel sampling incomplete from last year's program. Highlights include (total length):
CH23-002 (2m) including 15.70 g/t Au and 2.01 g/t Ag over 1m and 4.72 g/t Au and 0.08 g/t Ag over 1m

CH23-003 (4m) including 26.20 g/t Au and 2.18 g/t Ag over 1m and 10.05 g/t Au and 0.13 g/t Ag over 1m
Including internal dilution with no cutoff applied

The results compare well with historical sampling.

High-grade gold samples typically exhibit low Ag/Au ratios, in contrast to those from the Alcona area.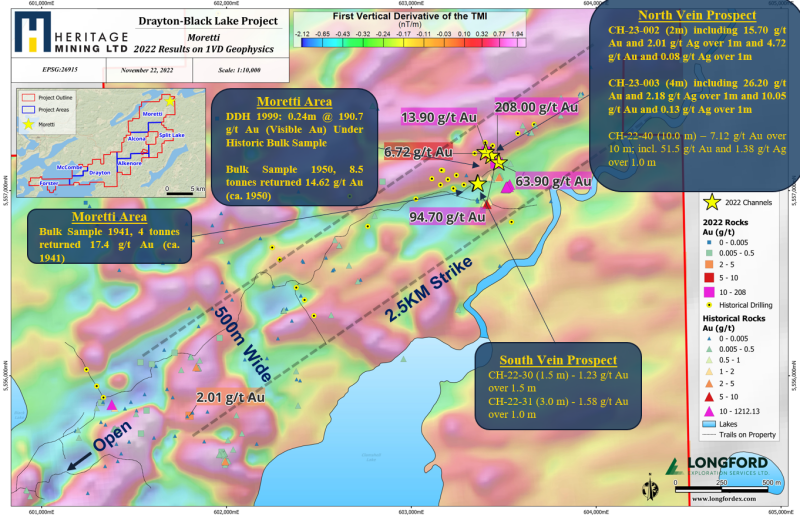 Click Image To View Full Size
Figure 4 – Moretti Area
Qualified Person
Robert Scott, Exploration Manager for the Company, serves as a qualified person as defined by National Instrument 43-101 – Standards of Disclosure for Mineral Projects and has reviewed the scientific and technical information in this news release, approving the disclosure herein.
ABOUT Heritage Mining LTD.
The Company is a Canadian mineral exploration company advancing its two high grade gold-silver-copper projects in Northwestern Ontario. The Drayton-Black Lake and the Contact Bay projects are located near Sioux Lookout in the underexplored Eagle-Wabigoon-Manitou Greenstone Belt. Both projects benefit from a wealth of historic data, excellent site access and logistical support from the local community. The Company is well capitalized, with a tight capital structure.
For further information, please contact:
Heritage Mining Ltd.
Peter Schloo, CPA, CA, CFA
President, CEO and Director
Phone: (905) 505-0918
Email: peter@heritagemining.ca
FORWARD-LOOKING STATEMENTS
This news release contains certain statements that constitute forward looking information within the meaning of applicable securities laws. These statements relate to future events of the Company. Any statements that express or involve discussions with respect to predictions, expectations, beliefs, plans, projections, objectives, assumptions or future events or performance (often, but not always, using words or phrases such as "seek", "anticipate", "plan", "continue", "estimate", "expect", "forecast", "may", "will", "project", "predict", "potential", "targeting", "intend", "could", "might", "should", "believe", "outlook" and similar expressions are not statements of historical fact and may be forward looking information. All statements, other than statements of historical fact, included herein are forward-looking statements.
Forward looking information involves known and unknown risks, uncertainties and other factors which may cause the actual results, performance, or achievements of the Company to be materially different from any future results, performance or achievements expressed or implied by the forward-looking information. Such risks include, among others, the inherent risk of the mining industry; adverse economic and market developments; the risk that the Company will not be successful in completing additional acquisitions; risks relating to the estimation of mineral resources; the possibility that the Company's estimated burn rate may be higher than anticipated; risks of unexpected cost increases; risks of labour shortages; risks relating to exploration and development activities; risks relating to future prices of mineral resources; risks related to work site accidents, risks related to geological uncertainties and variations; risks related to government and community support of the Company's projects; risks related to global pandemics and other risks related to the mining industry. The Company believes that the expectations reflected in such forward-looking information are reasonable, but no assurance can be given that these expectations will prove to be correct and such forward‐looking information should not be unduly relied upon. These statements speak only as of the date of this news release. The Company does not intend, and does not assume any obligation, to update any forward‐looking information except as required by law.
This document does not constitute an offer to sell, or a solicitation of an offer to buy, securities of the Company in Canada, the United States, or any other jurisdiction. Any such offer to sell or solicitation of an offer to buy the securities described herein will be made only pursuant to subscription documentation between the Company and prospective purchasers. Any such offering will be made in reliance upon exemptions from the prospectus and registration requirements under applicable securities laws, pursuant to a subscription agreement to be entered into by the Company and prospective investors.
NOT INTENDED FOR DISTRIBUTION TO UNITED STATES NEWS WIRE SERVICES OR FOR DISSEMINATION IN THE UNITED STATES
Copyright (c) 2023 TheNewswire – All rights reserved.
window.REBELMOUSE_LOWEST_TASKS_QUEUE.push(function(){
var scrollableElement = document.body; //document.getElementById('scrollableElement');
scrollableElement.addEventListener('wheel', checkScrollDirection);
function checkScrollDirection(event) { if (checkScrollDirectionIsUp(event)) { //console.log('UP'); document.body.classList.remove('scroll__down'); } else { //console.log('Down'); document.body.classList.add('scroll__down'); } }
function checkScrollDirectionIsUp(event) { if (event.wheelDelta) { return event.wheelDelta > 0; } return event.deltaY < 0; } }); window.REBELMOUSE_LOWEST_TASKS_QUEUE.push(function(){ !function(f,b,e,v,n,t,s){if(f.fbq)return;n=f.fbq=function(){n.callMethod? n.callMethod.apply(n,arguments):n.queue.push(arguments)}; if(!f._fbq)f._fbq=n;n.push=n;n.loaded=!0;n.version='2.0'; n.queue=[];t=b.createElement(e);t.async=!0; t.src=v;s=b.getElementsByTagName(e)[0]; s.parentNode.insertBefore(t,s)}(window,document,'script','https://connect.facebook.net/en_US/fbevents.js'); fbq('init', '2388824518086528'); });



Source link